Many travelers can agree that simply gazing upon a light pollution-free sky at night is one of the simple joys of nature. Living in an area where a community is as beautiful at night as in the daytime can be a welcome daily delight that makes living in a community so much better.
Recently, Park City, Utah released a Planning Commission report, asking residents to consider changing the lighting codes in the city to the International Dark Sky Association Standards. Many of the standards include minimizing the amount of light pollution and glare to conserve energy and resources, they also consider lighting areas for reasons of safety and utility.
An IDA International Dark Sky Community is a town, city, municipality, or other legally organized community that has shown exceptional dedication to the preservation of the night sky through the implementation and enforcement of a quality outdoor lighting ordinance, dark sky education, and citizen support of dark skies.
Dark Sky Communities excel in their efforts to promote responsible lighting and dark sky stewardship and set good examples for surrounding communities.
If Park City becomes a Dark Sky Community, it should increase the value of Park City real estate, helping
real estate sellers
in the area. Park City has already seen an influx of
home buyers
in the area since March, the addition of the city in the list of Dark Sky Communities should only increase this number.
Park City's Lighting Game Plan
Liz Jackson, a planner for Park City, had this to say about the potential change: "In the past, this is something that's kind of been on the back burner for Park City, it's important, but now it's definitely come to the forefront," she said. "This is something that's been emphasized that we'd like to do in the past and protect the night sky and it seems to go hand-in-hand with sustainable tourism as a priority of the city."


Only two dozen communities have taken on the role of a Dark Sky Community, many of whom are National Parks right here in Utah. Arches, Zion, Bryce and Capitol Reef National Parks are currently functioning examples of the benefits of a Dark Sky Community.

The city is using Flagstaff, Arizona as an example to model their dark sky efforts on. Flagstaff was the first city in America to enact a dark sky ordinance in 1958. Later, it became the first city to be to be designated an International Dark Sky Community by the IDA in 2001

Park City has recently seen a large uptick in temporary and permanent residences, creating more light pollution than ever before. Park City's lighting regulations have also remained unchanged for over 30 years, something the Park City Planning Commission hopes to change.

Park City's Planning Commission reviewed the plan during a meeting on Nov. 11 and will vote on it during the Park City council on Dec. 10. If it passes, residents and business owners will have time to change their lighting to make it in accordance with the new lighting codes by 2024.
How Park City Residents Will Achieve Lighting Goals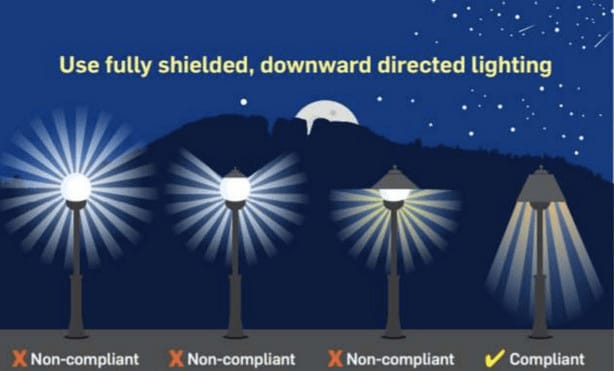 Cut off lighting is required to be installed and no one will be permitted to use spotlights or floodlights. Holiday lights will still be permitted between the months of Nov. and April, but they must be turned off at midnight.
Other changes will include fully shielding any outdoor lighting. Also, requiring outdoor lights to be below 3,000 degrees Kelvin. A lower Kelvin temperature means a warmer light on the yellow spectrum as opposed to a bright white. Broad daylight is usually measured around 6,000 deg. Kelvin.
The IDA estimates nearly 35% of used light is wasted because it is poorly aimed or insufficiently shielded. These new regulations would allow nighttime lighting of doors, walkways, and business signage, but would not allow buildings to be illuminated in order to highlight any architectural features.
While the changes have not yet been started to get Park City on the road to become a Dark Sky Community, the town remains excited about less air pollution and more beautiful night skies.