The name mudroom tends to imply that there is an area of the home that is meant to get dirty and be unattractive. However, with the right styling, mudrooms can be a smart and stylish addition to your home that harmonizes with the overall luxurious interior.
Here in Park City, most luxury homes have a mudroom to accommodate all the seasons of outdoor fun available in this area. And, with insights as your
Park City Realtors
, we are here to give you some ideas on how to transform your mudroom into a more attractive space.
Embrace Natural Colors And Patterned Flooring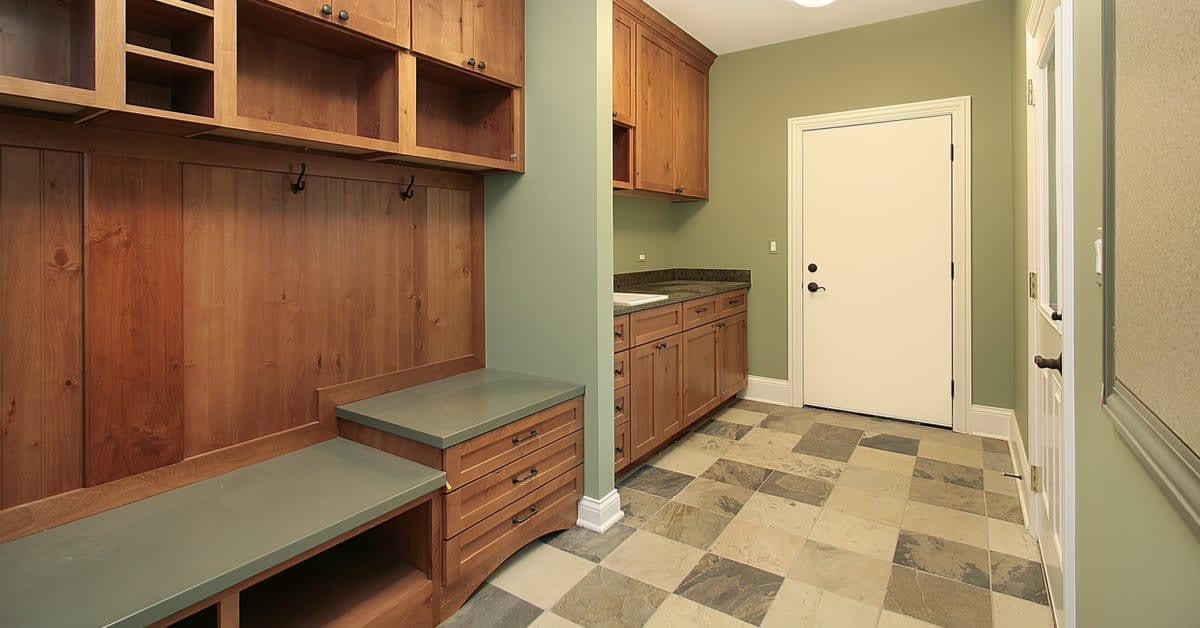 In homes where mudrooms will see a lot of traffic, embracing natural tones and colors can help enormously. Lighter colors can become stained and discolored by melting snow and mud brought in after a long day of outdoor fun, so natural colors like sage, brown, tan, beige, and others can help keep your mudroom looking good.
Also, choosing flooring with natural patterning can help provide a stylish look while being forgiving when the outdoors makes its way inside. Stone tiling like travertine can be a good option, as it is naturally rougher and helps prevent slipping while being an attractive option.
Transform Area With Plenty Of Storage

Some mudrooms are little more than nooks where coats are stashed. But if you find you need more than just some coat hooks in your mudroom, you can make it far more functional by adding a variety of storage options.
Shoe storage is often a priority, as you don't want to track anything deeper into the home. Also, having coat hooks installed at different heights can allow you to space out large jackets and coats more effectively. If you have the room, adding closed cabinetry can help store outdoor gear—from snowshoes to hydration packs—easily and out of sight.
Create Space For Ski And Snowboard Storage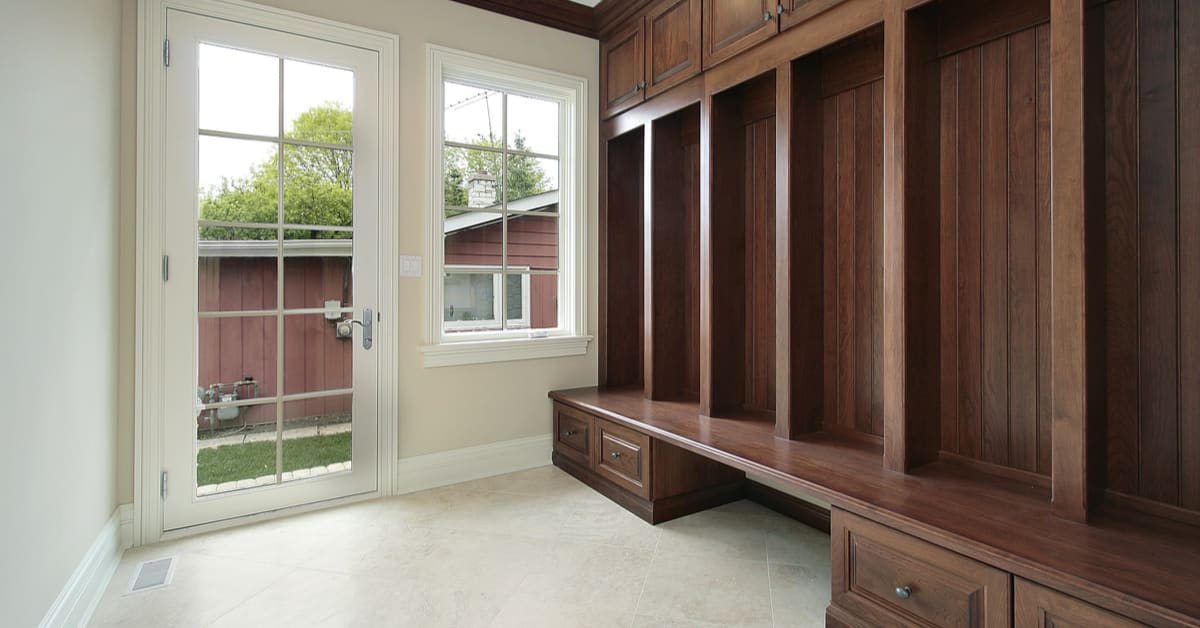 If your Park City vacation home is primarily used during the winter as your skiing getaway, you can design your mudroom around it. Your central storage should feature spots where skis, poles, snowboards, and other bulky gear can be stored easily.
Also, having small storage areas combined with the larger and longer shelves can help tuck away gloves, boots, helmets, and other miscellaneous gear without cluttering your longer shelves.
Lean Into More Rustic Styling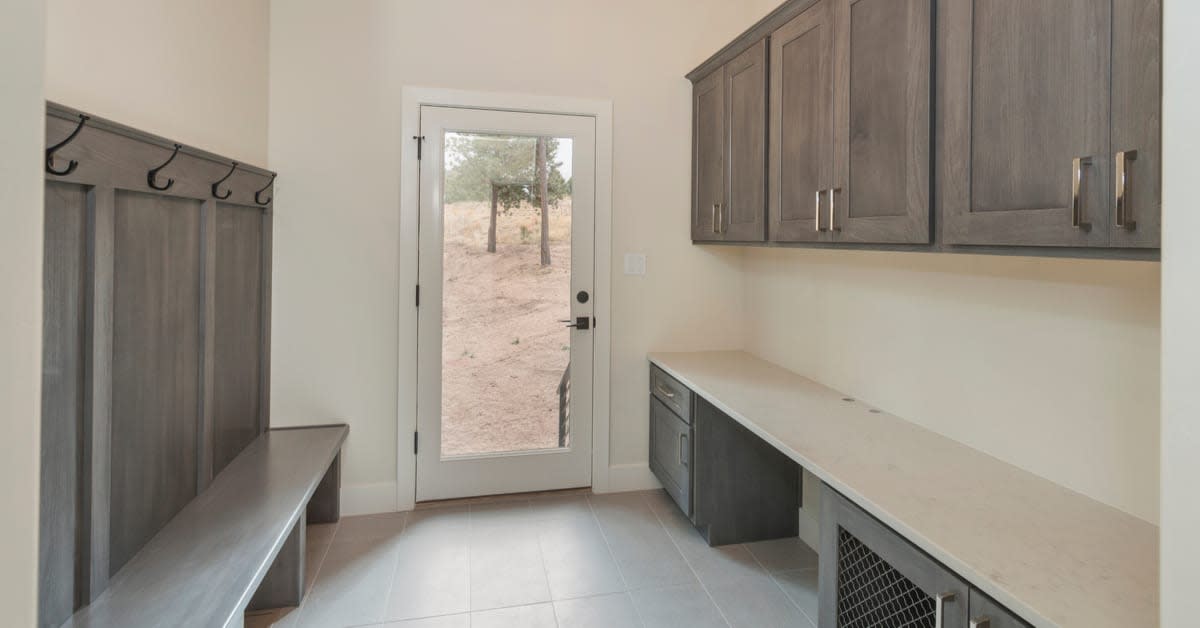 Should your personal style lean more toward modern farmhouse, styling your mudroom to be more rustic is easy enough.
There are a number of wood stains that are preferred to evoke rural aesthetic, such as weathered oak, dark walnut, grey, early American, Jacobean, and others. Pair that with a unique, exposed bulb light fixture, and you can establish an attractive farmhouse look.
Opt For Locker-Style Cabinetry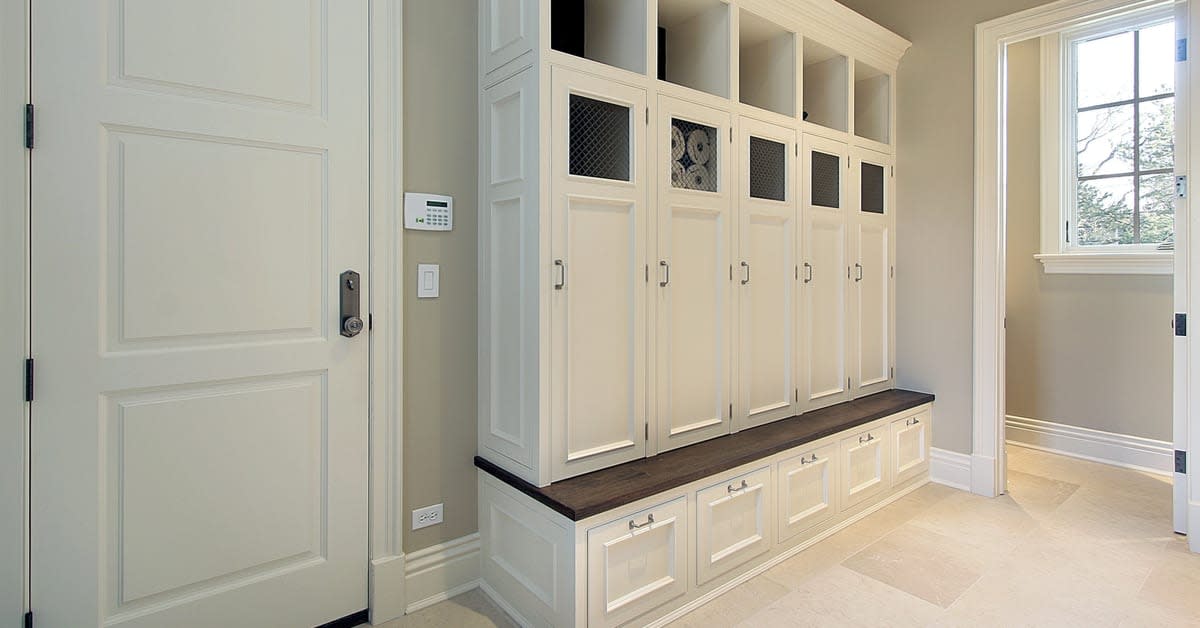 Part of the issue with closed cabinets is the lack of airflow. No one wants to open a cabinet for their coat, only for a wet, slightly musty smell to come out. Well, a good compromise is locker-style cabinets that have mesh or other openings to allow airflow at the top of the cabinet door.
Not only does this style of mudroom cabinetry allow for objects to get adequate airflow, but you can easily check where you stored your jacket without needing to open each cabinet.
Include A Sink In The Mudroom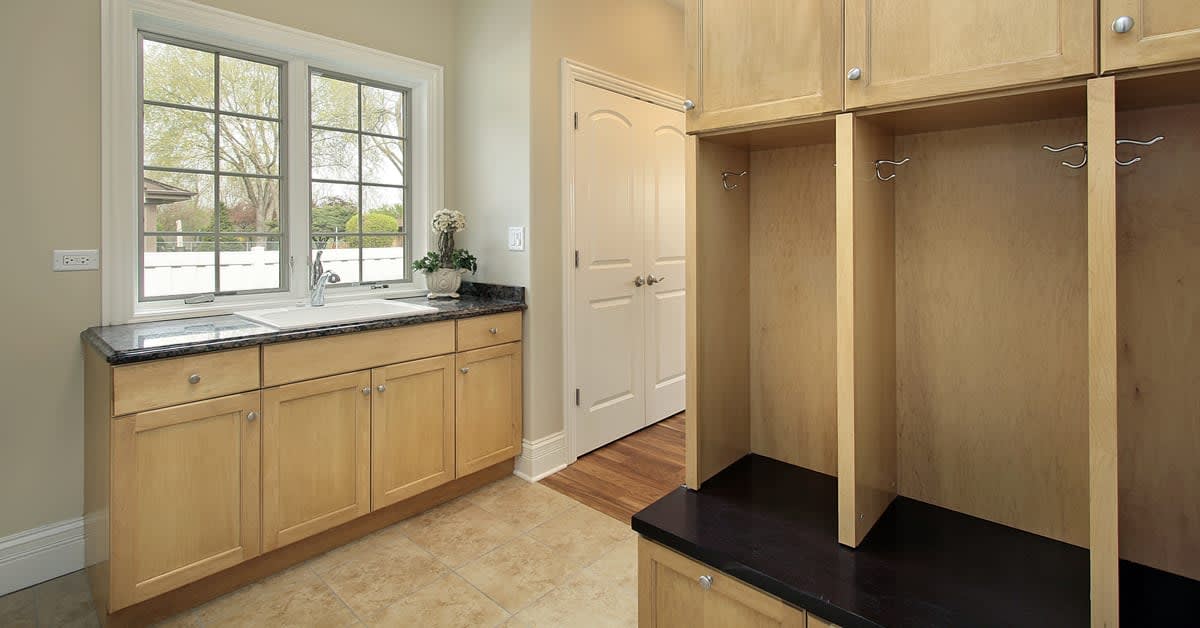 Having a sink in your mudroom can be incredibly handy. Whether you need to rinse off boots or wash your hands after a morning of gardening, having the sink in your mudroom will keep the mess contained.
Also, for those who have young children—or visiting grandchildren—having a sink with easy access can help cut down on the amount of dirt and debris that makes its way into the rest of the house.
Choose Open Storage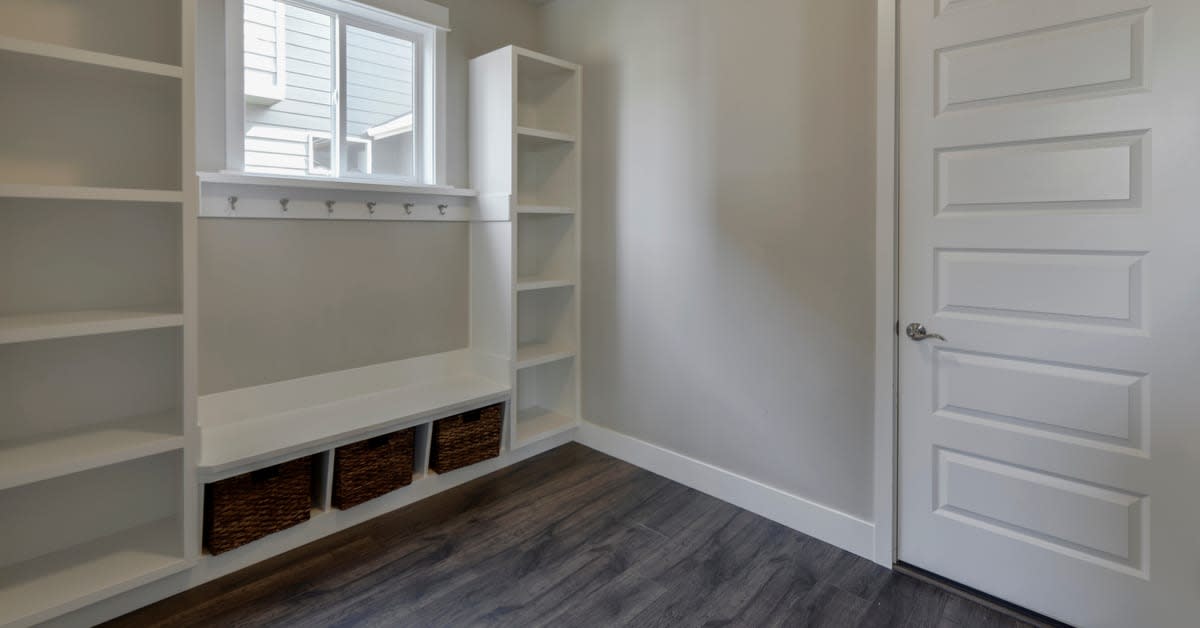 Cabinets with doors can visually shrink a space. So, if you already have a smaller mudroom, open storage may be ideal, as the exposed shelves don't have the same shrinking effect.
If there is some mudroom storage that will look cluttered left out, you can always add a few baskets to sit on the open shelves. As long as there aren't baskets on every shelf—which has the same visual effect of cabinet doors—it shouldn't pose an issue.
Brighten A Mudroom With Natural, Light-Colored Wood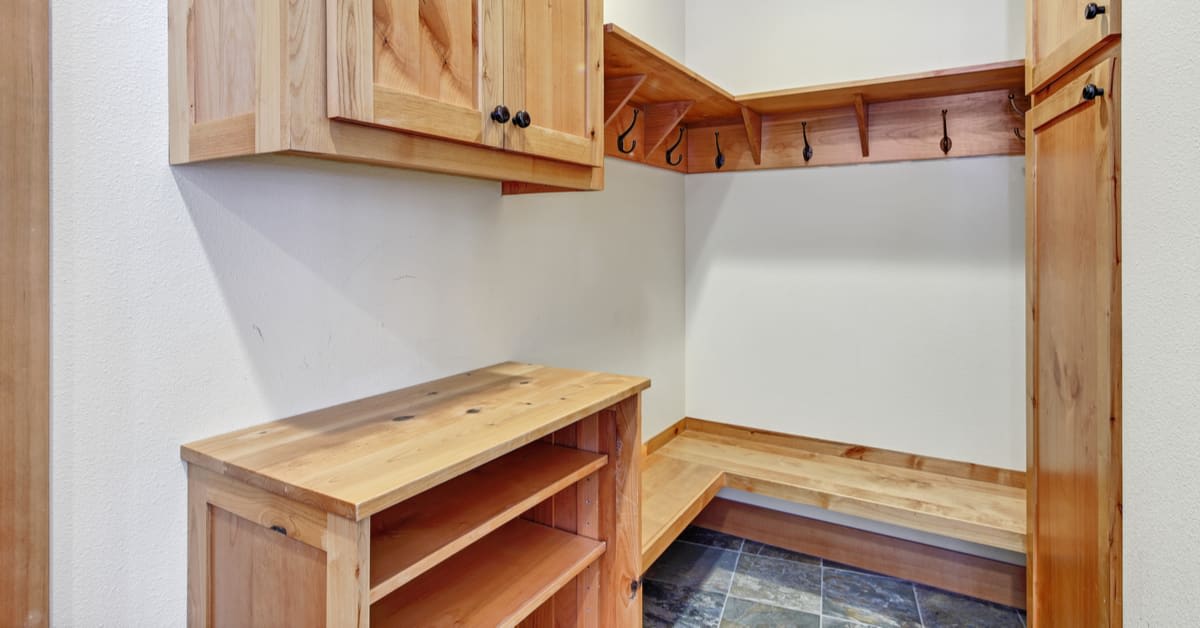 Mudrooms can have shadowy corners and look dim, as there is not always a window and generally only one central light for the space. To help brighten up the room, having white walls and light-colored, natural-looking wooden cabinets can help.
Whether you have plenty of space in your mudroom or have more of a nook, judiciously combining different types of storage space can really spruce up your mudroom and upgrade its style.